Supreme Court art, pensions, black holes and Henry VIII
28 Tuesday May 2013
The new Supreme Court encourages visitors to the Court. Those who visit come away with a variety of impressions of the highest court in the land. In this guest post, artist Isobel Williams reflects on her latest visit to the Court.
Above Henry VIII floats the head of a young red-headed woman. The king's image is carved into the oak of the public seating – a likeness copied from Holbein but slimmed down a bit.
The woman twists her long slender neck to look at me from time to time. She is alert. But none of us knows our own context.
Then I draw the umbrella in the foreground. Let other pens dwell on umbrella pension trusts. Nortel and Lehman are here in a jam-packed courtroom, peering down the pensions black hole with a torch.

So: when a Financial Support Direction or contribution notice under the Pensions Act 2004 is issued after a company goes bust, what is the obligation, if any, on the company and office-holders?
'…eroded away…' says someone in the courtroom, and I'm blasted back a few decades to a lecture about translations of the Bible in which an academic was slaughtering lumpen modern versions.
' "Eroded away",' she said in disgust at the superfluous word.
Lunch is a tuna mayonnaise and sweetcorn sandwich and a Kit-Kat.
Back in court I chat to two women from the regulatory side. I explain that I am Typhoid Mary when it comes to pensions. Reader's Digest. Equitable Life.  'Ah,' says one, 'you're on our side then.'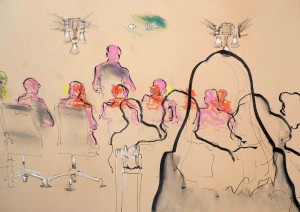 In my next drawing I catch Nathaniel Hone's soulful portrait of Sir John Fielding, who dwelt in the black hole of blindness after an accident when he was 19. Brother of the more (or less) famous Henry (depending on your point of view), he became a magistrate and social reformer.
In the drawing of transparent layers (above), red represents the justices, yellow the court staff and a judicial assistant, pink the people in the legal teams' seats. Those in the public seats are outlined in black.
Oh, don't trust the umbrella. It falls over with an oracular crash. It lies pointing away from the black hole – one of the ventilation grids in the carpet. I've only once dropped charcoal in the Supreme Court: it vanished down a black hole. That taught me to be more careful.
More pictures if you scroll down.