In the Supreme Court w/c 23 November 2009 [updated]
21 Saturday Nov 2009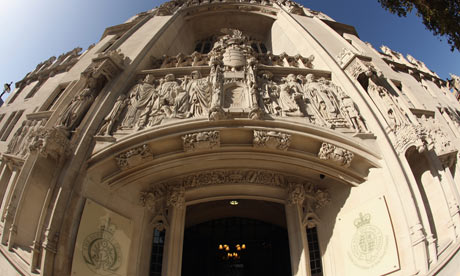 There are two appeals listed in the Supreme Court this week.  First, on Monday and Tuesday, 23 and 24 November 2009 a five justice panel of Lord Hope, Baroness Hale, Lord Brown, Lord Collins and Lord Kerr will hear the case of Tomlinson v Birmingham City Council.  Our case preview is to be found here.  Second, on Wednesday and Thursday, 25 and 26 November 2009, a seven justice panel of Lord Hope, Lord Rodger, Baroness Hale, Lord Brown, Lord Collins, Lord Kerr and Lord Clarke will hear the case of Re S-B (Children).  The case preview is here.  One judgment has been announced – in the case of Office of Fair Trading v Abbey National, heard on 23 to 25 June 2009 by the Judicial Committee – judgment will be given at 9.45am on Wednesday 25 November 2009.
No hearings of the Judicial Committee of the Privy Council are listed this week and it has not announced any judgments (although little in the way of prior notice has been given over the past two months).
The Supreme Court has made a number of unannounced permission to appeal decisions over the past week.  In the continuing absence of any official record we have picked up some of them from news reports   We understand that when the Court's case management system is working properly with its website then the decisions will be noted there.  Unfortunately, it is obviously not working properly as no decisions are displayed.  In the interim the court should be posting the decisions in the News Section of its website.   The House of Lords permission decisions were announced daily on the "Judicial Business" section of the House of Lords website and it is surprising and disappointing that the Supreme Court is lagging behind its predecessor in terms of public communication and transparency.
Judgments awaited
Judgments are awaited in the following cases:

House of Lords
Secretary of State for Environment, Food and Rural Affairs  v Meier  heard 10 and 11 June 2009
R v Horncastle, heard 7-9 July 2009
R (Barclay) v Secretary of State for Justice, heard 15-16 July 2009
R (A) v London Borough of Croydon, heard 20-23 July 2009
Barratt Homes Limited v DWR Cymru Cyfyngedig heard 27-28 July 2009
BA (Nigeria) v Secretary of State for the Home Department , heard 30 July 2009
Supreme Court
A v Her Majesty's Treasury, heard 5-8 October 2009
Re I (a child), heard 12 October 2009
R (A) v B, heard 19 to 20 October 2009
A v Her Majesty's Treasury (anonymity), heard 22 October 2009
R (E) v Governing Body of JFS, heard 27-29 October 2009
Agbaje v Akinnoye-Agbaje,  heard 3-4 November 2009
AM (Somalia) v Entry Clearance Officer, heard 9 to 12 November 2009
Office of Communications v Information Commissioner, heard 17 November 2009
Judicial Committee of the Privy Council:
Mega Management Limited v Southward Ventures Depositary Trust  (The Bahamas), heard 31 March-1 April 2009
McKinney Higgs v Leshel Maryas Investment Company Limited (Bahamas), heard  12-13 May 2009
The Trinidad and Tobago Civil Rights Association v The Attorney General of Trinidad and Tobago  (Trindidad & Tobago) heard 14 May 2009
Texan Management Limited v Pacific Wire and Cable Company (British Virgin Islands) heard 24-25 June 2009 
National Transport Co-operative Society v A-G of Jamaica (Jamaica) heard 29-30 June 2009 
Pell Frischmann Engineering Limited v Bow Valley Iran Limited  (Jersey) heard 13-14 July 2009
Cyril Archibold Capron v Government of Turks and Caicos (Turks and Caicos), heard 5 October 2009
Lowell Lawrence v Financial Service Commission, (Jamaica), heard 6 October 2009
A-G of Trinidad & Tobago v Carmel Smith (Trinidad and Tobago), heard 13 October 2009
Herman Ramdass v Marilyn Bahaw-Banan (Trinidad and Tobago), heard 19 October 2009
Josine Johnson and Yuckan Balwant v A-G of Trinidad and Tobago (Trinidad and Tobago), heard 20 October 2009
Nadine Rodriguez v The Minister for Housing of the Government of Gibraltar (Gibraltar) heard 21 October 2009
Theresa Henry v Calixtus Henry (St Lucia) heard 4 November 2009
McNicholls v Judicial and Legal Service Commission (Trinidad and Tobago), heard 9 November 2009
Mossel Jamaica v Office of Utilities Regulation (Jamaica), heard 17 and 19 November 2009