The Week That Was
18 Friday May 2012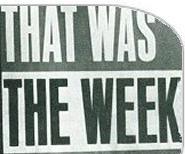 On Monday Lord Sumption gave a lecture at the London School of Economics on the  relationship between foreign affairs and the courts. His assessment charts the progress of judicial involvement in foreign policy since the GCHQ case of 1984 and predicts an increase in the courts' influence. Joshua Rozenberg's analysis is available here.
The Legal Services Ombudsman has published a report which shows a general downward trend in consumer complaints made to the Law Society Complaint Service, and also a reduction of complaints referred to the LSO's office last year by the Bar Standards Board to 27.
The war crimes and genocide trial of Ratko Mladic has been suspended and may be delayed for months after it emerged that the prosecution had failed to release documents to Mladic's legal team. The documents are rumoured to relate to witness testimony and the prosecution have admitted the error is a huge embarrassment to the court and could impact upon the fairness of the trial. Victims' families have expressed their concerns the former general may not live long enough to be convicted as he is 70 years old and believed to be in ill health.
On Thursday the Court of Appeal ordered the release  of Sam Hallam, a 24-year old who was sentenced to life imprisonment for murder when he was 18. It is expected his murder conviction will be quashed next week after the Crown withdrew all opposition to his appeal. The court heard that his conviction was based on "manifestly unreliable" testimony from witnesses, one of whom had given several different accounts of witnessing the gang murder of Essayas Kassahun. It was also revealed that the Met Police and CPS had withheld evidence gathered from the appellant's mobile phone which could have supported his case.
Abu Qatada's bail application has been fixed  for Monday 28 May 2012 at SIAC before Mr Justice Mitting. The cleric is being detained while he fights deportation proceedings after he lost his attempt to obtain permission to appeal to the European Court of Human Rights.
A juror who was spotted smoking cannabis in his lunch hour outside Bolton Crown Court has been fined £450 after admitting contempt of court. Recorder Nicholas Clarke QC said he accepted Shezad Hussain was a family man with no previous criminal record but that "defendants, witnesses and the public are entitled to expect those who come to do jury service will do it without taking drugs."
A speech due to be made tonight by Max Hill QC, chairman of the Criminal Bar Association, will raise the threat of criminal barristers going on strike over legal aid cuts. A poll of over 1600 barristers found that nine out of ten are prepared to strike over the proposed changes to the criminal justice system (with criminal fees being repeatedly frozen, then reduced by 13.5% by the last government and a further 11% by the current administration), but the decision to announce industrial action would have to be made after further discussion with the members of the CBA.