The Week That Was
27 Friday Jan 2012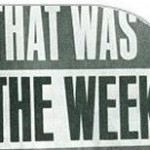 David Cameron this week warned that the European Court of Human Rights is in danger of turning into a "small claims court" that fails to deal with serious violations of human rights, unless it embarks on reforms. While Cameron praised the principles of the court, he said that it was undermining its reputation by unnecessarily overturning judgments reached in credible national courts. Cameron suggested a number of reforms which will be discussed at a ministerial conference in Brighton in April.
Cameron's comments drew a substantial response, in The Guardian Francesca Klug retorted "So which of these UK cases validates the prime minister's claim that Strasbourg has been acting like a "small claims court"? When journalists were forced to reveal sources; when police could stop and search any of us without suspicion in a designated area; when innocent people's DNA was retained indefinitely; when social services failed to act on complaints of child abuse; when foreign terror suspects were detained indefinitely without charge or trial?" Sir Nicholas Bratza, the ECHR president warned political leaders against using "emotion and exaggeration" to criticise the court's workings. The president made his comments as he released figures detailing the court's rulings during 2011. The figures reveal that the court ruled against the UK on just eight occasions, compared with 159 violations found against Turkey, 121 against Russia and 105 against Ukraine.
The Innocence Network UK has called for an overhaul of the Criminal Cases Review Commission and its referral powers.The director of the network, Dr Michael Naughton, contends the CCRC is hamstrung by the statutory straitjacket of the Criminal Appeal Act 1995 that requires only cases with the "real possibility" of the conviction being overturned to be referred to the court of appeal.
A former university lecturer who carried out online research about a criminal defendant while serving as a juror has been jailed for six months. Theodora Dallas, 34, who taught psychology at the University of Bedfordshire, was found guilty of contempt of court by three high court judges. She was refused leave to appeal.
The CPS Inspectorate is to carry out an investigation into the collapse of the trial of eight former police officers accused of conspiracy to pervert the course of justice in South Wales (R vs Mouncher and others). The trial collapsed because of concerns that certain evidence not used in the prosecution's case had not been disclosed to the defence as it ought to have been.
The judge in Tottenham Hotspur manager Harry Redknapp's tax trial has banned the use of Twitter in court after a breach of reporting restrictions. The Twitter ban was announced by Judge Anthony Leonard QC after a reporter was understood to have tweeted the name of a juror, which resulted in the jury having to be discharged and a new one sworn in.