The Week that Was
22 Friday Jul 2011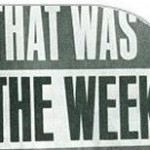 The phone hacking scandal has continued to dominate the headlines, as a  number of News International figures line dup to face MPs inquiries. Rebekah Brooks was arrested at the weekend, but was released on Sunday night and appeared before MPs on Tuesday saying that hacking payments were 'not in her remit'. Rupert and James Murdoch apologise for any misconduct on the part if News International. Rupert Murdoch denied responsibility, saying that given the size of the News International empire he was simply not aware of all that was going on in parts of the organisation.
James Murdoch stated that he had followed the advice of a number of advisers. In particular he blamed law firm Harbottle & Lewis for their advice regarding the evidence of phone hacking. However, two former News of the World executives have accused James Murdoch of misleading MPs and there have been calls for an inquiry.  The highlight of the proceedings so far has been a pie attack on Rupert Murdoch, which was foiled by his wife Wendy.
The phone hacking scandal has continued to garner a number of high profile scalps. Both the Metropolitan Commissioner and Assistant Commissioner resigned following criticism for hiring former News of the World executive Neil Wallis. Meanwhile the home affairs committee accused the Met of a "catalogue of failures" in the News of the phone-hacking inquiry. David Cameron has also faced awkward questions over his relationship with Rebekah Brooks, Andy Coulson and alleged discussions of the BSkyB deal.
In other news, a home office strategy published on Tuesday states that the failure of police and prosecutors to enforce a law that criminalises men who pay for sex with trafficked women is jeopardising the attempt to tackle human trafficking into Britain. The strategy says that only 40 cases have been prosecuted since the new offence came into effect in April 2010 and that includes prosecutions of kerb crawlers.
The charges against the majority of UK Uncut protestors who were charged for occupying Fortnum and Masons on the day of the TUC protests in March have been dropped. However, some will still be prosecuted. It has been a good week for protestors in general, as the convictions of 20 protesters for trying to shut down the UK's second largest power station, Ratcliffe on Soar, have been quashed by the Court of Appeal due to the failure of the prosecution to disclose evidence collected by undercover police officer Mark Kennedy.
Finally, Justice Susan Denham has been named as the new Chief Justice of Ireland. She will the first woman and first protestant to hold the position. You can read an excellent blog post on her appointment on the Ex tempore blog.