Register of Interests: Justices vote No
03 Wednesday Feb 2010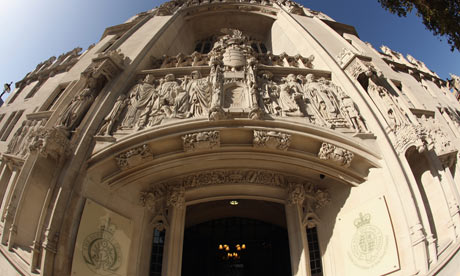 The Supreme Court website has been updated with a statement explaining that the Justices of the Supreme Court have decided that "it would not be appropriate or indeed feasible" for there to be a comprehensive Register of the Interests of all of the Justices. The statement goes on to say that it would be impossible for the Justices to identify all of interests which might conceivably arise in future cases. Hence any Register of Interests, which the public would inevitably take to be comprehensive, would be misleading.
The statement points out that other judges in the UK, including High Court and Court of Appeal judges, do not have to complete a Register of Interests. Instead, they are under a duty to declare any interest as and when an issue arises in a case before them.
The Justices have instead agreed a Code of Conduct, by which they will all be bound. This can be found on the Supreme Court website.  We draw attention, in particular to the following provision of the Code
Previous participation in public office or public debate on matters relevant to an issue in a case will not normally be a cause for a Justice not to sit, unless the Justice has thereby committed himself or herself to a particular view irrespective of the arguments presented to the Court. (para 31.4)
The statement of the Justices represents a change from the procedure in the House of Lords. The Lords of Appeal in Ordinary who were members of the Appellate Committee of the House of Lords (now the Justices) were appointed under the Appellate Jurisdiction Act 1876. This appointment gave the Law Lords full voting and other rights in the House of Lords. However, the Law Lords had for some years voluntarily excluded themselves from participating in the legislative work of the House of Lords. Nevertheless, the Lords were bound by the rules of the House of Lords, including the Code of Conduct (for which see here) and therefore the Law Lords provided entries for the House of Lords Register of Interests.
On creation of the Supreme Court, the Lords of Appeal in Ordinary became Justices of the Supreme Court. Although the Lords retain their titles as Peers of the Realm, they are excluded by statute from sitting or voting in the House whilst they remain in office as Justices of the Supreme Court. Thus, they are treated as Peers on leave of absence and they do not have entries in the House of Lords Register of Interests.
The result of this decision of the Justices is that users of the Supreme Court website cannot find out that, for example, that Lord Phillips owns approximately 140 acres of forestry in Wales and is a member of
the Advisory Council, Institute of Global Law, UCL, theBoard of Management, Institute of Advanced Legal Studies, the Council of Management, British Institute of International and Corporation Law, the President, British Maritime Law Association and the Chancellor, Bournemouth University.  Neither would they be aware that Baroness Hale is the Chancellor, University of Bristol, Visitor, Girton College, Cambridge, Visiting Professor, Kings College London, the President, National Family Mediation, the President, United Kingdom Association of Women Judges and the President, International Association of Women Judges.  This information can only be found on last year's House of Lords Register of Interests (for Lord Phillips, see
here
and for Baroness Hale see
here
)