The Week That Was – "The Mask of Anarchy"
12 Friday Aug 2011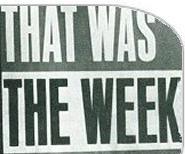 Riots in London and other major cities have dominated the news this week. The shooting of Mark Duggan, a 29 year old man, by police was the initial catalyst for a series of disturbances in Tottenam, which eventually spread across London and the country. After London-wide looting and arson on Monday night, Boris Johnson returned from his holiday to be shouted at by the public in Clapham.
Some commentators were quick to jump on the blame-it-on-the-cuts bandwagon – Labour's Deputy Leader Hariet Harman had a well-publicised spat with Education Secretary, Michael Gove, where she suggested that:
"There is a sense that young people feel they are not being listened to. That is not to justify violence.
"But when you've got the trebling of tuition fees, they should think again about that.
"When you've got the EMA being taken away, when you've got jobs being cut and youth unemployment rising and they are shutting the jobcentre in Camberwell – well, you should think again about that because this is going to cost money."
Former cabinet member, Hazel Blears asked Sky News, perhaps rhetorically, "Why are these kids not in school?" Presumably, Hazel, for the same reason that Alexis Bailey, a 31 year old teaching assistant wasn't.
Bailey pleaded guilty to burglary of an electrical store in Croydon.
A more thoughtful analysis was offered by commentators such as Camila Batmanghelidjh (founder of the charities The Place To Be and Kids Company) in The Independent and Peter Oborne in The Telegraph.
Parliament was recalled, for only the 14th time in 30 years. In his statement, Prime Minister David Cameron pledged that the perpetrators of violence and looting would be caught, arguing that:
"no phoney human rights concerns about publishing these photographs will get in the way of bringing these criminals to justice."
David Cameron has 'form' on his populist opposition to human rights law – and over at the UK Human Rights Blog, doubt was cast on whether publishing photos would actually be a breach of human rights.
He went on to outline new powers for the police and local authorities:
"we are going to give the police the discretion to remove face coverings under any circumstances where there is reasonable suspicion that they are related to criminal activity.
"And on dealing with crowds, we are also looking at the use of existing dispersal powers and whether any wider power of curfew is necessary."
"Local authorities and landlords already have tough powers to evict the perpetrators from social housing."
We mentioned the new e-petitions site last week, and the furore about the death penalty. This week over 130,000 people have demanded that rioters should lose benefits (although consideration doesn't seem to have been given to those like Alexis Bailey, mentioned above).
Barrister Elizabeth Prochaska (Matrix) suggests that proposals to evict rioters or remove their welfare benefits are unlikely to get past parliament or the courts:
"It is easy to see that the housing and benefits proposals are a disproportionate interference with article 8 rights to private and family life. Indeed, the Supreme Court has already held in the Pinnock case that it is necessary to consider individual circumstances whenever a council seeks a possession order."
There was an interesting decision in the Court of Appeal on Wednesday, SL v Westminster City Council & Ors [2011] EWCA Civ 954, a challenge to a local authority's refusal to provide the claimant with accommodation under the National Assistance Act 1948, s 21(1)(a). Although in a different context, the approach taken by the Court emphasised the need to consider individual circumstances when assessing the claiamant's needs under the 1948 Act.
There's also an excellent round up on the Obiter J Law and Lawyers Blog, looking at the legal aspects of the rioting: Some thoughts on a desperate August week.
On Friday, Sir Hugh Orde, president of the Association of Chief Police Officers, said that the role of politicians in dealing with the trouble had been an "irrelevance", brushing aside criticism that the police hadn't acted quickly enough earlier in the week. He also used it as an opportunity to suggest that police budgets shouldn't be cut. Perhaps Boris, May and Cameron need not have rushed back from their summer breaks.
(The Mask of Anarchy was written by Percy Bysshe Shelley in 1819 following the riot in Manchester known as the 'Peterloo Massacre'. It was not published until 1832, however, because in response to the riot, the Government considerably tightened censorship and sedition laws . . . )
Anita Davies is away.