The Week That Was
27 Friday Apr 2012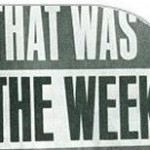 New rules designed to stop protesters sleeping near Parliament have been upheld in a High Court ruling. In a test case, two judges rejected a challenge launched by peace campaigner Maria Gallastegui who has camped out in Parliament Square since 2006. The "plainly lawful" rules did not contravene the Human Rights Act, Sir John Thomas and Mr Justice Silber said. Under the rules, protesters are not allowed to set up tents or "sleeping equipment" in Parliament Square.
Former Luton South MP Margaret Moran, who is accused of fiddling her parliamentary expenses, will not face a jury, a judge has decided. Mr Justice Saunders said Ms Moran, 56, would not have to appear in court, after psychiatrist Philip Joseph said she was not fit to stand trial. Dr Joseph said the ex-Labour MP was suffering from a depressive illness and had extreme anxiety and agitation. Ms Moran did not attend the hearing at Lewes Crown Court.It is alleged that Ms Moran, who stood down at the last election, "flipped" her designated second home, making claims for properties in London, Luton and Southampton.
Hundreds of bakers have protested at Downing Street against plans to tax hot takeaway foods such as pasties. Almost half a million people have signed petitions against the proposals, campaigners said.   Around 300 workers from bakeries across the country gathered opposite Downing Street to protest. Chris Beaney is a director of the Association of Master Bakers and runs two small bakeries in Kent. He said: "They've changed the rules so that if someone comes into our shop and a tray of sausage rolls comes out of the oven, we're not allowed to sell those sausage rolls unless we put VAT on them, or we say to them 'hang on 10 minutes and you can have it without VAT'. It's going to be completely impossible to police.
International judges have found former Liberian leader Charles Taylor guilty of aiding and abetting war crimes during the Sierra Leone civil war. Taylor, 64, has been on trial in The Hague at the UN-backed Special Court for Sierra Leone for almost five years. He was accused of backing rebels who killed tens of thousands of people in Sierra Leone's 1991-2002 civil war. Taylor was convicted on 11 counts including terror, murder and rape – but cleared of ordering the crimes. He is the first former head of state convicted by an international court
The government's controversial bill cutting legal aid in England and Wales has survived a last-ditch attack in the Lords and is now set to become law.  Peers tried and failed to amend those parts of the bill that apply to victims of domestic violence.  After a parliamentary passage that saw it defeated 14 times in the Lords, the bill now awaits Royal Assent. Labour peer and former attorney general Baroness Scotland had argued that women could die as a result of the changes. But despite that warning, the House of Lords backed ministers by the narrowest of margins, with 238 votes on each side – a tie means a victory for the government.
Two Welsh men have been charged in Australia with stealing a fairy penguin called Dirk.  The pair, aged 20 and 21, allegedly entered Sea World on Queensland's Gold Coast and removed the flightless bird, which has reportedly never lived in the wild. Dirk, aged seven, was eventually found in water near the park, according to reports, and was reunited with his girlfriend Peaches.