The Week That Was
15 Friday Jul 2011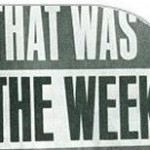 It has been a week dominated by the fall out from the phone hacking scandal. Following sustained media and parliamentary pressure, the government has put together a 'hastily assembled' inquiry into the phone hacking, headed by Lord Justice Leveson. Leveson is the chairman of the Sentencing Council, and was also lead prosecutor in the case of Rose West. Commenting on his appointment, Leveson said, "The press provides an essential check on all aspects of public life. That is why any failure within the media affects all of us. At the heart of this inquiry, therefore, may be one simple question: who guards the guardians?" Leveson is expected to deliver his report in twelve months.
The judiciary, following a slew of media criticism, has hit back. The Lord Chief Justice, Lord Judge, referring to "a steady flow" of attacks criticised "those who should know better and sometimes by those who choose to ignore what they know …" in a speech on Wednesday at the Mansion House Annual Judges' dinner. He went on to refer to the phone hacking and note that "now, notwithstanding the constant criticism of judges, public revulsion has led to the demand for a judge-led inquiry."
However, while the public may wish for a judge led inquiry, the public perception of the judiciary is by no means always rosy. A total of 456 complaints were made to the Officer for Judicial Complaints about allegedly inappropriate behaviour or comments by a judge or magistrate in 2010/11. That was a rise of 39 per cent on the 328 complaints lodged in 2008/09 and up in the 422 in 2009/10. Memorable complaints include a magistrate falling asleep in the course of an assault trial.
A London judge has made legal history by becoming the first to deliver a verdict on her own after discharging a jury. Recorder Caroline English delivered a solo verdict at Wood Green crown court because a friend of the accused was alleged to have been in regular contact with a woman juror and have passed information on voting intentions. Under the 2003 Criminal Justice Act, judges may continue a trial on their own if satisfied the jury has been subject to interference and that the defendants can still have a fair trial. The provision had never previously been used.
The skirmishes over legal aid continue, following government proposals remove legal aid from trespassers. The headlines have mainly focused on the effect this will have on squatters. However, as Giles Peaker from the Nearly Legal Blog points out, the traveller and Gypsy communities will be those hardest hit by the new measures as some 25% of the Gypsy and Traveller population who live in caravans do not live on authorised sites.
Finally, it has not been a good week for UK Intelligence agencies and security services. In Al-Rawi & Ors [2011] UKSC 35, the Supreme Court ruled that courts had no power to order a closed material procedure, and dismissed MI5 and MI6's attempts to suppress intelligence information saying the issue was one parliament had to decide. Meanwhile, the parliamentary intelligence and security committee (ISC) has said in its latest annual report that MPs and peers must have a greater role in holding MI5, MI6, and GCHQ to account.