The Supreme Court Café
10 Friday Aug 2012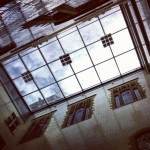 As the Supreme Court is in recess for the summer holidays, the UKSC Blog team thought it would be a good opportunity to take a lunch break out and visit the Court's café.
Situated on the lower ground floor in the atrium of the Supreme Court building, the café boasts fantastic views of the decorative windows on each floor up to the glass roof. It has several large round tables and even has a wide screen TV so that, while we were there, visitors were able to watch Team GB win two medals in the triathlon.
And the food isn't bad either. While there is not a tremendous amount of choice, there is certainly something for everyone.
We sampled the cream of mushroom soup (£2.50 – creamy, very hot), egg sandwich (£2.95 – good egg to bread ratio), jacket potato with tuna and sweetcorn (£3.75 – large portion, very satisfying) and a salad (£3.95 – exceedingly healthy and nutritious).
We felt it wouldn't be fair to our readers (or ourselves) if we left without sampling a cake or two. We tried a panettone-style muffin (£1.55 – tasty) but the highlight of the whole lunch has to be the pecan danish (£1.30 – very fresh). When we asked about the provenance of the danishes, we were informed that they are baked at the Ministry of Justice and ferried over to the Supreme Court – how very fitting.
All in all it was a lovely lunch. With drinks included the total bill for three was £19.37 and with good food, great views and a little bit of Olympics thrown in too, we thought it was great value – well worth a visit if you are attending a hearing, an exhibition (watch this space for a review of Playing by the Rules: Sport and the Law, the exhibition currently being held outside Court Room 1) or happen to be in Westminster and need a break away from the crowds.