In the Supreme Court w/c 5 November 2012
05 Monday Nov 2012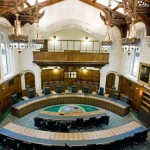 In front of a panel of seven (Lords Neuberger, Hope, Walker, Mance, Clarke, Sumption and Reed) in the Courtroom 1 of the Supreme Court from Monday 5 November until Wednesday 7 November 2012 is the matter of R (on the application of Prudential plc & Anor) v Special Commissioner of Income Tax & Anor. The appellant financial services company was served with notices under the Taxes Management Act 1970, s 20 requiring the disclosure of documents relating to a tax avoidance scheme to HMRC. It is for the Supreme Court to determine whether the protections offered by legal professional privilege extend to communications between a client and an accountant seeking and giving legal advice on tax law. Case details are available here.
On Wednesday 7 November 2012 the Supreme Court will hand down judgment in Morris v Rae, an appeal from the Scottish Court of Session concerning title to land, which was heard on 3 October 2012.
The Privy Council will hear Lancashire Insurance Company Ltd v MS Frontier Reinsurance Ltd on Thursday 8 November 2012. This Bermudian appeal will determine whether or not an agreement for the assignment of a commercial lease was validly terminated by the respondent by the service of a contractual termination notice on the appellant. Here are the case details.
On Thursday 8 November 2012 the Privy Council will hand down judgment in Taitt v The State, an appeal against a death sentence from the Republic of Trinidad and Tobago.
The following Supreme Court judgments remain outstanding:
Stanford International Bank Ltd (acting by its joint liquidators) v Director of the Serious Fraud Office, heard 23 – 25 January 2012.
R v Waya, heard 27 – 30 March 2012.
Al-Sirri v Secretary of State for the Home Department, heard 14 – 15 May 2012.
DD (Afghanistan) v Secretary of State for the Home Department, heard 16 – 17 May 2012.
The Catholic Child Welfare Society & Ors v Various claimants & Ors, heard 23 – 24 July 2012.
R (Gujra) v Crown Prosecution Service, heard 4 October 2012.
Local Government Byelaws (Wales) Bill 2012 – Reference by the Attorney General for England and Wales, heard 9 – 11 October 2012.
Societe Generale v Geys, heard 17 October 2012.
RM v The Scottish Ministers, heard 23 October 2012.
HMRC v Loyalty Management UK Ltd, heard 24 – 25 October 2012.