In the Supreme Court w/c 13 May 2013
13 Monday May 2013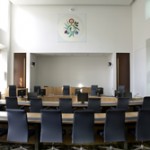 On Monday 13 May 2013 in Courtroom 1 is the appeal of Apollo Engineering Ltd v James Scott Ltd, listed for half a day in front of a panel of three (L Hope, L Clarke and L Carnwath). There are currently no case details available for this matter.
From Tuesday 14 until Thursday 16 May 2013 are the linked appeals of Re Nortel Companies, Re Lehman Companies, and Re Lehman Companies (No 2). Various administrators made court applications for directions as to the effect of the Financial Support Direction regime and contributions notices under the Pensions Act 2004 upon companies in administration or insolvent liquidation. At first instance it was held that the liability arising under a contributions notice to a company in administration ranks as an administration expense, that the liability under such a notice issued to a company in a liquidation following an administration will rank as a liquidation expense if the Financial Support Direction preceding it was issued while the company was in liquidation (although if the FSD preceding it was issued while the company was in liquidation any liability arising under the contributions notice will be a provable debt in the liquidation), and the liability imposes an obligation to comply with the FSD by putting in place reasonable financial support for the scheme within the period specified in the direction. The Supreme Court will consider the way Parliament intended the pensions and insolvency statutory schemes to interact; and determine whether, in circumstances where a FSD or a contribution notice under the Pensions Act 2004 is issued after a company has gone into administration or insolvent liquidation, it imposes any and if so what obligation on the company and its office-holders.
On Wednesday 15 May in Courtroom 2 is Re an application by Central Craigavon Ltd for Judicial Review. This appeal from Northern Ireland concerns a large shopping centre. The appellant is the landlord of a rival shopping centre, and seeks an order quashing a new draft Planning Policy Statement relating to future development of the site. The issue for the Supreme Court is whether the draft Statement is a "plan or programme" to which Directive 2001/42/EC art 3(2)(a) applied, so as to require an environmental assessment to be carried out.
On Wednesday 15 May 2013 the Supreme Court will hand down judgment in The President of the Methodist Conference v Preston.
The Privy Council is sitting this week – on Tuesday 14 May 2013 in Courtroom 3 is The Appeal Commissioners v The Bank of Nova Scotia, on appeal from the Court of Appeal of Grenada.
The following Supreme Court judgments remain outstanding:
Hayes v Willoughby, heard 17 January 2013.
Ministry of Defence v Smith & Ors, heard 18 – 21 February 2013.
In the Matter of B (a Child), heard 25 – 26 February 2013.
Benedetti v Sawiris & Ors, heard 26 – 28 February 2013.
Petrodel Resources Ltd & Ors v Prest, heard 5 – 6 March 2013.
R v Brown, heard 7 March 2013.
Abela & Ors v Baadarani, heard 10 – 11 April 2013.
Commissioners for Her Majesty's Revenue and Customs v Marks and Spencer PLC, heard 15 April 2013.
Booth v The Parole Board, Osborn v The Parole Board and In the matter of an application of Reilly for Judicial Review (Northern Ireland), heard 16 – 18 April 2013.
Public Prosecution Service of Northern Ireland v Elliott and Public Prosecution Service v McKee, heard 22 April 2013.
Cusack v London Borough of Harrow, heard 23 April 2013.
Vestergaard Frandsen A/S (now called mvf3 Apps) & Ors v Bestnet Europe Ltd & Ors, heard 24 April 2013.
Virgin Atlantic Airways Ltd v Zodiac Seats UK Ltd (formerly known as Contour Aerospace Ltd), heard 29 – 30 April 2013.
O'Neill (No 2) v Her Majesty's Advocate and Lauchlan v Her Majesty's Advocate, heard 29 – 30 April 2013.
Ust-Kamenogorsk Hydropower Plant JSC v AES Ust-Kamenogorsk Hydropower Plant LLP, heard 1 – 2 May 2013.
R (AA) v Secretary of State for the Home Department, heard 6 – 7 May 2013.
R (Sturnham) v Parole Board for England and Wales & Anor, heard 9 May 2013.