Hilary Term starts tomorrow
14 Tuesday Jan 2014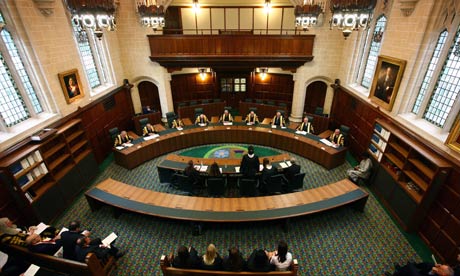 It's the first week of the Hilary Term, which will run until mid-April. Due to the website move (the new UKSC website is http://www.supremecourt.uk/) a number of case details are yet to be posted, but they will appear over the next few weeks. Some upcoming cases are outlined below. There are no seven-justice benches this term, although there is a possibility that additional expedited cases may be listed in the final few weeks. The term list is available here.
A v Secretary of State for the Home Department (22 – 23 Jan 2014): This Scottish appeal originally concerned a petition for judicial review of the Upper Tribunal's refusal to grant the respondent leave to appeal against the First-tier Tribunal's decision to uphold the Home Secretary's refusal to revoke a deportation order on human rights grounds. Directions under the Contempt of Court Act 1981, s 11 were made, prohibiting the publication of the respondent's name or photograph on the justification that the respondent may be subject to physical harm in his country of origin if it were to be known that he was to be about to be returned. The Supreme Court will determine whether the discretion to prohibit publication of a name or other material in connection with court proceedings under s 11 was correctly exercised in this case.
British Telecommunications Plc  v Telefonica o2 UK Limited & Ors (3 – 4 Feb 2014): The respondents, various mobile phone network operators, disputed the reasonableness of the appellant's new pricing system of telephone termination charges. The circumstances in which Ofcom may exercise its power to control prices via dispute resolution where there has been no finding that competition in the relevant market is ineffective will be clarified by the Supreme Court.
Agricultural Sector (Wales) Bill – Reference by the Attorney General (17 – 18 Feb 2014): This devolution matter concerns the competence of the Welsh National Assembly to pass the Agricultural Sector (Wales) Bill, which gives the Welsh government the power to set agricultural wages. The Attorney General has referred this to the Supreme Court to determine whether the Bill relates to agriculture policy, which is devolved to the Welsh Assembly, or to employment rights, which are reserved to Westminster.
R (Whiston) v Secretary of State for Justice (26 Mar 2014): The appellant was convicted of robbery and given a determinate sentence, and was automatically eligible for release from custody halfway through the sentence. Under the Criminal Justice Act 2003, s 246 the Secretary of State directed the appellant's release under the Home Detention Curfew Scheme, the conditions of which include an electronically monitored curfew. However, the release on curfew was revoked. The appellant applied for judicial review of the decision, arguing that his rights under ECHR, art 5(4) were breached by recalling him to prison without giving him access to a Parole Board.